Team Building San Diego is a list of the best corporate events, company outing ideas and team building activities in San Diego and the surrounding area.
The team building activities on this list range from cooking competitions and high intensity escape rooms to casual bowling, local hikes and DIY park days. Our goal was to include a wide variety of company outing ideas on this list, and we plan to update it regularly.
Because you're here, you must already know that strong teams produce the best work. Investing in team building activities for your employees helps increase communication, productivity, profitability and other important business metrics. And it's not just about the numbers, team building is an efficient way to build a great company culture; which is a major factor is attracting and retaining talent. Team building is extremely important and almost always a win-win investment.
Our list of team building activities in San Diego highlights 25+ of the best team bonding activities, corporate event ideas, and team outing ideas the area has to offer, including options in San Diego, Encinitas, Oceanside, Carlsbad, Temecula, Escondido and the Del Mar area and throughout Southern California.
Team Building San Diego: Table of Contents
The Best Team Building Activities in San Diego
There are countless ways to rank team building activities, including factors like efficacy, fun-level, accessibility and whether or not they can accommodate large groups. Your "best team building activities" may vary depending on your goals and preferences. We've included four San Diego team building companies below that should be a fit for most groups.
1. The Great Guac Off™
The Great Guac Off™ runs company team building activities based on a guacamole making competition. This format may sound a little unusual, but it is challenging, surprisingly fun, and very collaborative.! To facilitate your team bonding, fun and encourage a bit of friendly competition your team will be split up into smaller groups. Over the next few hours, the small teams will battle it out in mini challenges like Triviacado and, of course, compete against each other to make the best guacamole. There will be avocado puns, prizes and cool photo opportunities. The Great Guac Off™ can be hosted anywhere in San Diego, including your office, conference center, a restaurant or one of the Guac Off locations around the city.. The Great Guac Off is a strong option for team building for large groups because there is no limit to the amount of people that can participate.
2. Gingerbread Wars
Gingerbread Wars is the ultimate holiday team building event for your employees. Treat your company to an office holiday party and team bonding event all in one. Gingerbread Wars hosts fun office holiday parties that double as team outings. You'll enjoy holiday trivia, the Snowman Hustle, and the Gingerbread of Greatness, an epic gingerbread house building competition that crowns your office holiday champ. Gingerbread Wars has reasonable prices, but limited availability, as the event only runs from October through December. Book early if you'd like to secure this awesome holiday corporate event.
3. Murder n' Mayhem
Murder n' Mayhem in San Diego is another good option for team bonding that focuses on improving communication and morale, while also helping employees get to know each other better. Murder n' Mayhem offers a variety of themes for you to choose from for your team outing, including The Scandals at the Speakeasy, The Holmes Manor Mystery, Big Hair Band Homicide, Dead Men Tell No Tales, A Killer Costume Party, and more team building activities! You can also work with an event coordinator to create a custom theme and story-line for your corporate event. Your group will be split into smaller teams and work together problem solving, creatively thinking and motivating one another. Murder n' Mayhem will customize the team building event to your number of attendees in order to include each member of your group in the game.
4. Team Building Hero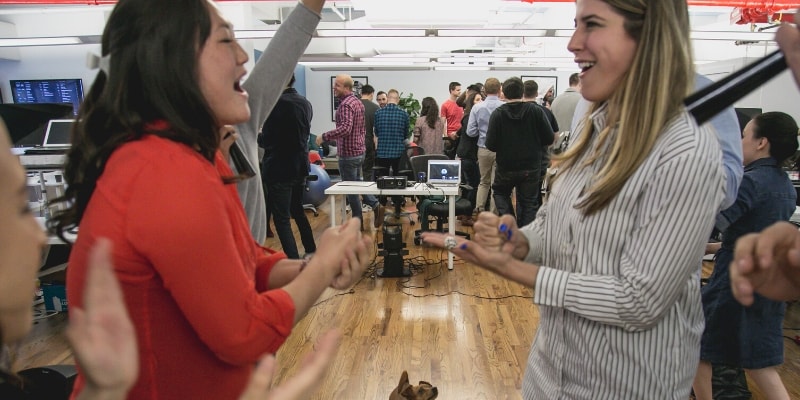 Some team building companies offer a variety of activities and event types. Team Building Hero is one of the best! The company offers fun group activities like scavenger hunts, storytelling workshops and food competitions. You can work with Team Building Hero over multiple events, which is advantageous for organizations that do monthly or quarterly team building.
Fun Team Building Activities in San Diego
There are many reasons that companies do team building, including to improve company culture, fix communication problems and similar. Other times, these efforts are just for fun; team building is a way to reward your employees for their hard work. This section includes fun team building activities and company outing ideas in San Diego.
5. Murder Mystery Scavenger Hunt
Murder Mystery Scavenger Hunt offers fun corporate events in San Diego and the surrounding area. This activity is one way to get outside and explore San Diego while also focusing on team bonding. First, your team will be split up into small groups, and then given a list of suspects along with a packet of tricky clues, riddles and puzzles. Next, your staff follow the clues and explore one of the following locations: Downtown Laguna Beach, San Clemente, Old Town San Diego or Newport Beach. The team that reveals the murderer, with the least help from headquarters, and is the fastest wins! You will need to bring a cell phone to call the helpline in case you get stumped, but other than that a smartphone is not needed, and will not help you. Depending on the location you choose for your team outing, your hunt can be about 4 hours, and between 2 – 4 miles of walking. For team building and private events, the company can also customize the courses to be shorter if needed.
6. Feet First
Feet First has been running team building tours in San Diego for over two decades. The company's most popular activities for employees include The Amazing Race in the Gaslamp Quarter, Survivor Games at Coronado Beach, Survivor Games around Mission Bay, and Brewery (or Breweries!) Wrap Up. Corporate events can incorporate breweries into challenges, or simply plan the event so that your whole team finishes up in beer lovers' heaven. Like any of these company outing ideas?
7. Knockerball
Knockerball or "bubble soccer" is a team building option for teams that enjoy a little chaos and fun. If you're unfamiliar with the sport, Knockerball is a single chamber inflatable sphere with inner handles and adjustable shoulder straps. If you've ever wanted to feel like you are defying gravity then this is the sport and company team building activity for you. The company offers fun corporate events like organizing a KnockerSoccer game for your team or facilitating local KnockerSoccer leagues. Knockerball's staff provide the full setup of the Knockerballs (delivery, inflation and breakdown), and the company will also provide you with options of "games" to play, soccer nets and soccer balls.
8. Social Cycle
Social Cycle is a 16-person bicycle, manually powered by its passengers and operated by a "captain." Social Cycle is an option for just about every type of group outing – from bar-hopping with friends to team-building with colleagues (Team Building San Diego note: you don't have to include alcohol to make your team building activity fun). Social Cycle in San Diego is a fun, easy and safe way to socialize and enjoy the company of your small team outside the office while also exploring local neighborhoods and bars. Social Cycle can be rented by private parties on an hourly basis and requires a two-hour minimum on Downtown and North Park routes; 2.5 hour minimum on Pacific Beach, Little Italy, and Hillcrest routes. Rentals for corporate events are available seven days a week, 10am to10pm on all routes. At least six passengers are required to pedal the bike, and each renter can bring up to 16 guests total per tour at no extra charge. A "Captain" employed by Social Cycle is included in the rental fee.
9. Game Night
Game Night is all about disconnecting from your devices and reconnecting with each other for at least a few hours of team building fun. The company believes games are "a great way to break down barriers and promote camaraderie while having fun in a comfortable and inclusive environment." Game Night will work with you to design an event that is a match for your team. Your team building event will include a Game Night high energy host that will lead your team through three rounds of party style board games similar to Pictionary®, Taboo®, and Charades. The games are easy to learn, very inclusive, and adaptable for large or small groups.
10. Cucina Migrante
Cucina Migrante offers two types of company team building activities in the San Diego area. Cucina Migrante are all about creating a space for genuine interaction and fun through learning new skills in a relaxed environment. The company's fun activities for employees include 1)Team Cooking Classes: In this semi-hands-on, interactive class your team will create three meals from scratch using only the freshest, local and seasonal ingredients from local farmers and producers. You'll also learn about the local food system, some cooking fundamentals and how to prepare healthy and simple dishes. Your team outing will also include games, jokes, challenges and prizes for the winning team and 2) Chef's Table & Painting Night:  Enjoy a four course dinner in a casual and relaxing environment while you and your team paint with an expert instructor. Your team will have the opportunity to interact with the chef and learn about the history and source of all the dishes.
Both team building activities offer a wine tasting and you are welcome to bring your own beverage of choice.
Unusual Team Building Activities in San Diego
If you have done classic team building activities like bowling or scavenger hunts then you may want to try something a little different. Below, we've compiled a few company outing ideas we would consider non-traditional or unusual team building activities in San Diego.
11. Battle Axe
Battle Axe San Diego, located in Mission Valley, the heart of San Diego, is a family owned business that offers a unique and adrenaline packed activity:Axe throwing.Similarly to playing a game of darts, players throw an axe at a wooden target, scoring points based on where the axe lands on the bullseye. Each game consists of three rounds and each player has five throws per round. The player that wins the most games gets dubbed Battle Axe Champion! The company also has tic-tac-toe for those that are master axe throwers. Don't worry if you don't know what you're doing – a Battle Axe Axpert will be assigned to your group for the duration of your corporate event. Battle Axe is able to host both small and large group sizes.
12. Drum Cafe
Drum Cafe is another unique option for your next team building event. Drum Cafe facilitates and creates unforgettable rhythmic experiences. Together, their team has over 25 years of drumming and percussive knowledge, a deep understanding of neuroscience and its benefits as a result of drumming, as well as team and leadership skills and expertise. All of Drum Cafe's programs are customizable based on your team's needs and time.
13. Ice Cream Party
Prepare for a delight because one of our recommendations for a great team building activity in San Diego is to host your own ice cream party. One of the major advantages of ice cream is that pretty much everyone on your team already loves it. You can start with a vanillas base, and then add some wild toppings like marshmallows and bacon. Compete to see who can make the best ice cream in categories like "most delicious", "most unusual" and more.
14. Taco Tour
Taco Tour offers guided lunch and sunset tours through the beautiful San Diego coastline. Eat delicious tacos, drink craft beer, have fun socializing outside the office with your team and enjoy the views from Point Loma, Cabrillo National Park, Ocean Beach, and Mission Beach. Taco Tour in San Diego offers two fun team building activities: 1) Lunch Tour:  The Lunch Tour departs from the Downtown Office Depot and goes through coastal San Diego stopping at three of San Diego's most famous fish taco locales and Cabrillo National Park and 2) Sunset Tour: The Sunset Tour also departs from the Downtown Office Depot and goes through coastal San Diego stopping at three of San Diego's most famous fish taco locales and ends with a sunset in Mission Beach.
15. Host A Meetup
Meetup events are a great way to show your team how much you appreciate them as well as promote your brand and engage your community directly. Planning a meetup isn't as hard or daunting as it may seem, and can actually be easier than planning a team outing. The process is: 1) Choosing an awesome location for your corporate event. It could be anywhere; your office, a local park, a cafe or a bar; 2) Planning a few fun and engaging "team building activities" like a photo challenge, a small scavenger hunt, or a personal bingo they should complete during the event; and 3) Inviting your amazing team, loyal customers, vendors, suppliers and local community. If you need help planning your meetup then don't hesitate to reach out to us!
16. Beach Bonfire Night at Moonlight Beach
For a more DIY team building activity take advantage of your incredible location, San Diego, by hosting a beach day and bonfire. Take a few steps to make sure your event is truly facilitating team bonding by organizing some engaging games (volleyball, frisbee, a relay race). Enlist the master grillers on your team to cook a delicious BBQ dinner and wrap everything up with a bonfire. Moonlight Beach in Encinitas is the perfect location for this type of company event! The beach allows bonfires in provided fire rings, and also has a volleyball court and barbecue areas. This type of team building activity also offers a great opportunity to include your colleagues' family and/or friends.
Active Team Building Activities in San Diego
Some teams like sports and activity, while others do-not. If your team is one of the former then you may want to consider some more active team outing ideas and team building activities for your next event. Options include bowling, hiking, swimming and more.
17. Bowlero
When is the last time you went bowling? Bowling is a classic team building activity. The sport is familiar, nostalgic and we'll bet most everyone on your team already knows how to do it. A trip to your local bowling alley is just the right amount of competitive and fun for any team. Bowlero bowling alley also offers fun arcade games, pool tables, a sports bar, craft beer, and delicious food to keep the good times rolling (Note from Team Building San Diego: food is an easy way to improve a team building activity or company outing.). If you want to make your team bowling outing more than just a casual after work hang then Bowlero also offers private party and corporate event packages. If your team really enjoys the event then maybe think about starting up a league.
18. Three Sisters Falls
Is your team outdoorsy? Do you often compare notes of camping trips and local hiking hotspots? If so then you should definitely check out Three Sisters Falls for your next company outing! Three Sister Falls is a fairly simple four-mile out-and-back hike. The best part is the waterfalls! After two easy miles in you'll reach the incredible waterfalls. The main fall has a naturally occurring water slide, which is a fun team bonding activity waiting to happen! It's best to plan this hike for the warmer months of the year so you can enjoy cooling off in the falls. This trek is a great option for small active teams. Dogs are also able to join the fun but must be kept on leash.
19. Balboa Park
Another great option for a DIY yourself team outing is a trip to Balboa Park. Originally called "City Park", Balboa was renamed after Spanish explorer Vasco Núñez de Balboa. Balboa Park was declared a National Historic Landmark, and is also listed on the National Register of Historic Places, as well as one of the Great Places in America. The historic park is home to 16 museums, the San Diego Zoo, the 1935 Cactus Garden, the Botanical Building and Lily Pond, and more unusual team building ideas! With so much to explore and experience, planning a fun outing with your team to explore a few of Balboa Park's top sites would surely make for a fun company outing.
20. Bike and Kayak Tours
Bike and Kayak Tours in San Diego provide active outdoor adventures for all types of groups. The tour company will work with you to customize your team's adventure to focus on team-building, outdoor education and/or just having fun in the ocean. The La Jolla kayak tour is the most popular package for company team building activities. Other types of tours you can do for team outings include biking and snorkeling.
21. Scavengers San Diego Beer and Adventure Tours
Scavengers San Diego Beer and Adventure Tours was named one of America's most unique beer tours by Forbes Travel. The activity is another option for enjoying the natural beauty of the coast and the delicious craft beer San Diego has to offer. Scavengers has a cool way of getting you and your group from point A to B, Vintage Swiss Safari Vehicles. Each vehicle has space for 12 people. The open-air style of the vehicles add to the adventure vibe. Scavengers offers three different corporate team building activities: 1) Downtown Beer & BBQ Safari, 2) North Country Beer & BBQ Safari, and 3) Choose your own adventure.
22. Escapism Puzzle Room
Escapism Puzzle Room is all about getting your team to improve their communication, critical thinking and personal empowerment. The team building activity equal parts fun and challenging. Escapism has three cool puzzle rooms to choose from 1) Gallery 3919: Someone has hidden an artifact inside the gallery and it is your task to find it and escape the room. Recommended for groups between six to eight people; 2) The Attic: As you try to find your way out of your neighbor's attic, you quickly realize he isn't exactly who he says he is. Recommend for groups between four to six people; and 3) The Dungeon: Follow the clues and escape this Medieval Dungeon before it's too late! Accommodates up to four players.
23.  Paintball Park
San Diego Paintball Park is focused on creating a team building experience that gets your group working together as a team. In order to succeed during your company outing, each team member will need to have each other's backs, communicate clearly in stressful situations, and celebrate each other's wins. San Diego Paintball Park offers low-impact paintball meaning everyone will have fun because they don't have to worry about getting hurt. Paintball Park is an indoor arena, so your event will never be postponed for weather. The company's Kearny Mesa location is within 30 minutes of many office spaces in San Diego. Along with a classic paintball set up, Paintball Park offers games specifically for team building.
24. UC San Diego Challenge Course
The UC San Diego Challenge Course offers customizable adventure team building programs with a focus on leadership and group dynamics. The course is located in the eucalyptus forest on the UCSD campus. UCSD Challenge Course offers customized adventure-based team building programs, highly skill team bonding facilitators, and programs of varying length. Don't worry, physical strength and a high level of fitness are not required to participate in and be successful on the course.
San Diego Team Building: Final Thoughts
Remember, team building is a powerful win-win investment and when done right will result in overall stronger teams with increased employee retention and satisfaction. It's important to note that while we believe in team building, we also believe that a company that works perfectly for one group's needs won't work as well for another. It's all about figuring out what your team needs to achieve. When in doubt, we recommend you choose fun.
If you've read this list and still need help planning the best team building activities for your team, we'd be happy to help! Drop us a line to chat about team building activities in San Diego, Encinitas, Oceanside, Carlsbad, Temecula, and the Del Mar area.
Team Building San Diego: Frequently Asked Questions
Readers often ask us questions about team building in San Diego, and we have the answers. Below, we've listed some of the most common questions.
What is the best team building activity in San Diego?
The Great Guac Off is our top choice for company team building in the San Diego area.
How often should we team build in San Diego?
We recommend team building at least every quarter! If your budget doesn't allow for that, then it's best to sprinkle in some DIY team building activities at the office.
Is it okay to mix team building into our office holiday party?
Yes! We'd even recommend it. One of our best team building activities in San Diego, Gingerbread Wars, does exactly that.